Welcome To TopShelfChips.com!
NEW CASINO CHIP FIND!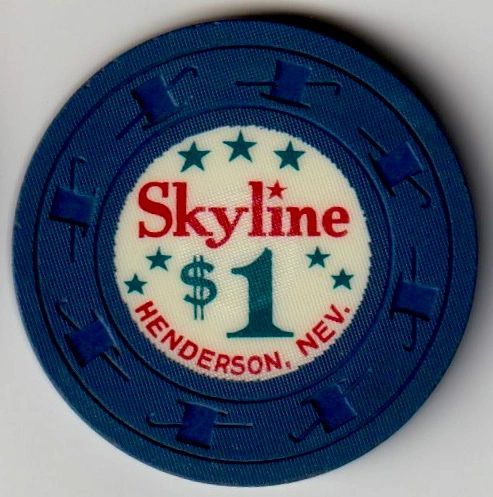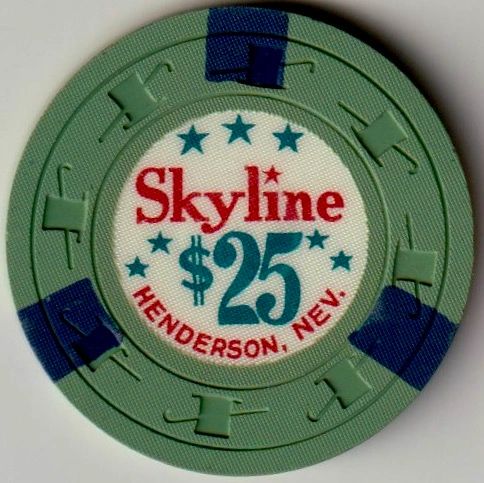 NEW CASINO CHIP FIND!
SKYLINE CASINO
Henderson, Nevada
First Issue...1960s!
Great story behind this casino chip find told by the Pawn Shop broker who took in these great chips...
  An 87 year old man walks into the pawn shop with this group of casino chips.  The man said he won them in a poker game with a group of friends many, many years ago!  He won the entire lot in a single poker hand!  He mentioned that he wasn't aware of their value, but since it was a friendly poker game, he laughed and said, "I thought my friend was cleaning out his garage!"
    The man said he had forgotten about them until recently when he was going through his attic.
We will be selling these chips exclusively on TopShelfChips.com through the Labor Day holiday
.
  We have a few full sets of the 3 chips (shown above) that will be retailing for
$475.00/set.  There are additional $1 & $5 chips (and a few $25s) that will be sold individually on the site as well.
There is a very limited amount of $25 chips available (Previously R-10 Rarity Rating with only a few known to exist) and will be sold first come, first 
served!
Check out the full story on our Facebook Page for TopShelfChips (
Use the FB link at the top of the page

) of how this find came to be and how it almost DIDN'T come to pass at all...
---
LABOR DAY

SALE!
STARTING TODAY!
ADDITIONAL ITEMS ADDED TO SALE BETWEEN NOW AND LABOR DAY!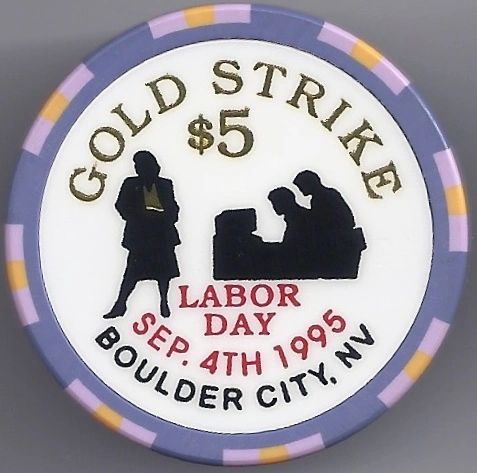 ---
Asking $14,750.00
Now Through Labor Day Over
$2,250 OFF!
$12,495.00
---

---
CASINO TOKENS
COMING SOON!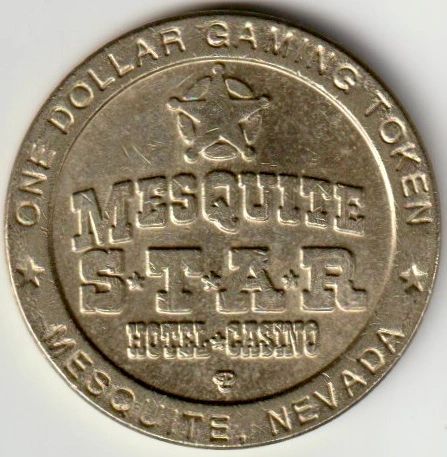 ---
---
Welcome to our online store of casino collectibles & shop of Memories!
Dedicated to awakening those memories of days gone by...
...from the Bachelor/Bachelorette party, wedding or 21st birthday to the Family Vacation in Las Vegas...Lake Tahoe...Reno 
 You say you didn't think to grab a "memento" at the time!  No worries, we've grabbed some for you!
Be it a casino chip, matchbook, pair of dice, casino ashtray, swizzle stick, napkin, casino dish, brochure, player's card or some other item to remind you of the
FUN
you had! 
Or maybe you're looking for that "Unusual" or "Unique" Gift for that someone special!  Perhaps you need to stock your "Man-Cave" or Bar with casino-ware such as; bar glasses, swizzle sticks, coffee mugs or napkins...
Well, here's your chance!
    Maybe your a collector of
casino "antiquities"
and are looking for something rare to complete your collection or perhaps something unusual that may have come from a Nevada Casino.  We stock our shop with mementos and memories that span back
over a century!
All of our collectibles come from (or were made for*) actual Nevada Hotels and Casinos!
We only carry the "Real McCoy"!  
Lots of original, antique & vintage, rare and collectible casino memorabilia!
The memorabilia on this site are from long closed casinos!
While there is still hundreds of items from inventory left to add to the site, once it's gone, it's gone!
We specialize in Las Vegas and other Nevada Casino Collectibles and Memories.
However...collectibles can show up from other states or cities from around the world at any time!
*There may be about a handful of items on the site that were made by (and for) TopShelfChips.com for different promotional events over the years that may be up for sale.
Our stock does change, so check back often.
---
NEW

FREE

SHIPPING

POLICY...
FREE SHIPPING
 ON ALL
PURCHASES OVER 
$69.00
---
We Have Adjusted All Casino Chip Prices To Reflect 

The Chip Rack 2018 ("TCR18") Prices.
Chip 
prices
 are updated as often as possible.  
Pricing is not guaranteed to be at TCR prices for all chips.
And most will be priced well below!